All Is Calm, All Is Bright With a Dominion Energy CU Credit Card!
Don't let those high-rate credit cards cut into your relaxation and fun this holiday season – save money on your shopping by opening a DECU Credit Card! We offer three low credit card rates you can depend on.
| | |
| --- | --- |
| • | 12-month introductory rate of 0% APR* on purchases, balance transfers and cash advances, after that variable rates as low as 9.65% APR* |
| • | No annual fees |
| • | Sign up for fraud alert text messages and purchase alerts |
| • | 24/7 online account access |
| • | Rewards and Cash Rewards card options – earn while you shop! |
*Annual percentage rate.
0%
APR valid on all transactions for the first twelve months. The introductory rate is not valid on existing Dominion Energy CU balances. After the introductory period, the rate will return to the variable rate for which you qualify. Rate effective 10/3/19. See website for current rates and credit card agreement and disclosure for details. Cash advances, credit card checks, and balance transfers are excluded from earning cash rewards.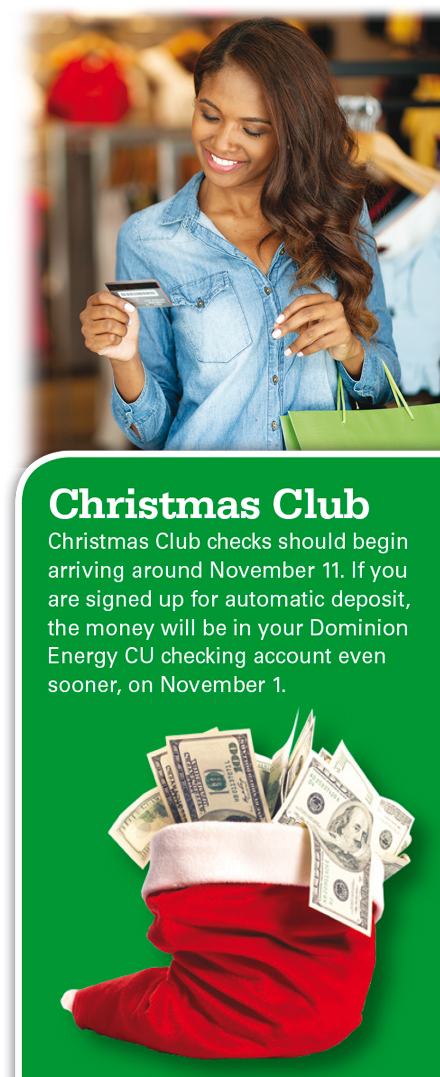 Keep Your Account Safe –
Sign Up for Alerts
Get ahead of the game by signing up to receive text and email alerts on your account activity as soon as it occurs.
Receive notification via email or text when….
| | |
| --- | --- |
| • | A deposit has been made – get notified when your paycheck is deposited! |
| • | A check has cleared |
| • | Your balance drops below a specified amount |
| • | A withdrawal exceeds a specified amount |
| • | A loan payment is due |
| • | Security events have occurred |
To sign up, simply log into Online Banking, click "Settings", then "Alerts", then in the drop-down menu, select your alert(s) and follow the prompts.
We also offer Card Fraud Text Alerts + Purchase Alerts. Visit the card alerts page on our website for more details.