Get financially fit in the new year with a Dominion Energy CU credit card. You'll enjoy fewer fees, lower rates, and great rewards, plus 0% APR* on all transactions for the first 18 months and no annual fee. Transfer your existing balances to one of our three credit cards and save big.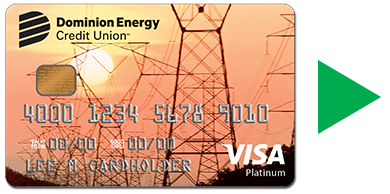 Low Rate Credit Card:
Enjoy our lowest rate possible with standard rates as low as 7.90% APR!*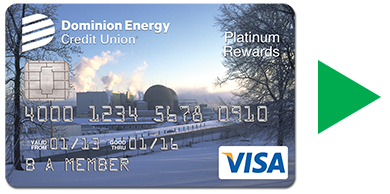 Rewards Credit Card:
Earn CURewards points good toward premium merchandise and unrestricted travel.
NEW!
Earn 10,000 points for usage**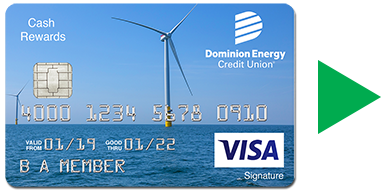 Cash Rewards:
NEW!
Earn 2% cash back on gas, groceries, and more! Earn 1.5% cash back on all other purchases.
Plus receive a $100 cash bonus for usage1
*Annual percentage rate. 0% APR valid for all transactions for the first 18 months on new credit card accounts. The introductory rate is not valid on existing Dominion Energy CU balances. After the introductory period, the rate will return to the variable rate for which you qualify, currently 7.9% - 18.9% APR, effective 12/3/20. View current rates and credit card agreement and disclosure at DominionEnergyCU.org. Balance transfer fee is 2% or $10, whichever is greater (excludes existing DECU cards converting to a different DECU card type). **Platinum Rewards Card bonus of 10,000 points when you make $1,500 in net purchases within the first 90 days on new credit card accounts only. ¹ Cash reward bonus of $100 when you make in $500 net purchases within first 90 days on new credit card accounts only.
---
Get Your Tax Refund Faster

According to the United States Treasury: Your tax refund should be issued 6-8 weeks after the IRS receives your accurate paper return, or 3-4 weeks when you e-file. But when you choose to direct deposit your refund, you'll receive it sooner than either of those options! Remember to include our routing number on your return: 251082644. If you are depositing to "savings," fill in your Dominion Energy CU savings account number. If you are depositing to "checking," use the 10-14-digit number found in the bottom center of your Dominion Energy CU checks.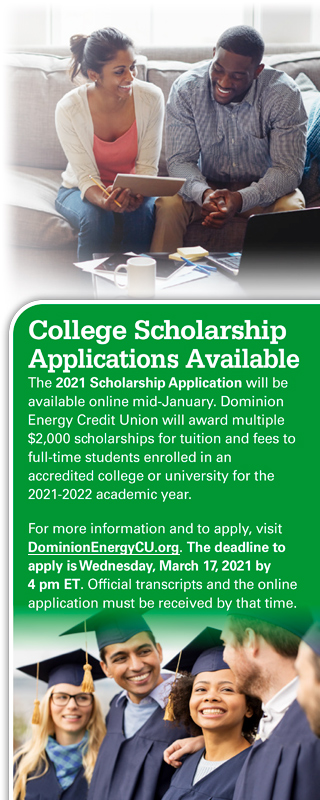 College Scholarship Applications Available. The 2021 Scholarship Application will be available online mid-January. Dominion Energy Credit Union will award multiple $2,000 scholarships for tuition and fees to full-time students enrolled in an accredited college or university for the 2021-2022 academic year. For more information and to apply, visit DominionEnergyCU.org. The deadline to apply is Wednesday, March 17, 2021 by 4 pm ET. Official transcripts and the online application must be received by that time.