Winner's Corner
Tyler Armstrong from VA won the auto loan drawing for the first payment on us, up to $500
Tracy Mayhew from VA won $300 in our fall credit card promotion
Scott Batson from VA won $100 in our fall football savings promotion
---

Make your money work as hard as you do with our Savings Certificates. Set aside as little as $1,000 and watch your money grow over a fixed term with our most competitive rates. Your future self will thank you!

See how much you could save with our free Certificate of Deposit Calculator at DominionEnergyCU.org.
---
New Year, New Goals
Financial planning at the beginning of the new year can help ensure your future success and may save you from unneeded stress. Here are some ways to start eliminating monetary headaches, along with free tools to make your life easier.
Don't miss a payment - set up automatic payments in Bill Payer
Stop overspending - set budgets, write out your goals, and track spending with Money Manager
Reduce debt - save by consolidating credit card debt and refinancing loans at lower rates
Invest in yourself - put some funds aside in a Savings account or increase automatic deposits and watch your money grow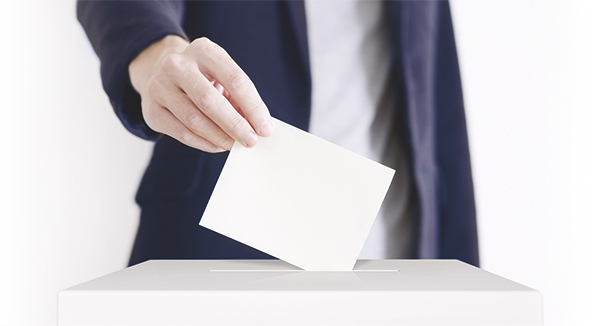 Board Nomination
The nominating committee is now accepting nominations for the Credit Union Board of Directors. Nominations may be made either upon recommendation of the Nominating Committee or by petition, as follows. Interested candidates should send the following information to the Credit Union Board Secretary, VA - Credit Union Operations - Boulders, by February 12:


A brief statement of qualifications and biographical data from the nominee(s).
A signed statement from the nominee(s) stating they agree to the nomination and will serve if elected.
A petition supporting the nomination signed by at least 350 Credit Union members.
The election will be held at the 2021 Annual Meeting.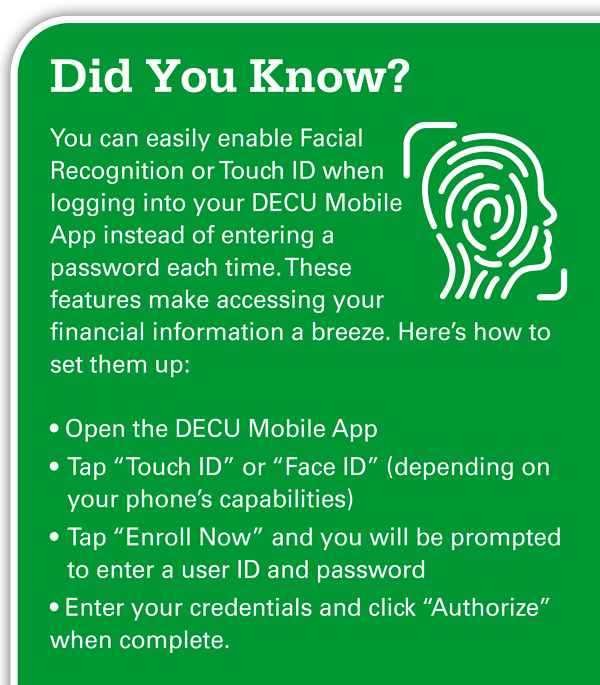 Did You Know? You can easily enable Facial Recognition or Touch ID when logging into your DECU Mobile App instead of entering a password each time. These features make accessing your financial information a breeze. Here's how to set them up: • Open the DECU Mobile App • Tap "Touch ID" or "Face ID" (depending on your phone's capabilities) • Tap "Enroll Now" and you will be prompted to enter a user ID and password • Enter your credentials and click "Authorize" when complete.