Say goodbye to your high-rate credit cards this holiday season and save money on your shopping by opening a DECU Credit Card! You'll have all the purchasing power you need for a joy-filled holiday. Plus, benefit from budget-friendly features that will make your bottom-line shine! We offer three low-rate credit cards that include:
No annual fees
24/7 online account access & alerts
Rewards and Cash Rewards card options – earn while you shop!
*Annual percentage rate. 0% APR valid on all transactions for the first eighteen months on new credit card accounts only. The introductory rate is not valid on existing Dominion Energy CU balances. After the introductory period, the rate will return to the variable rate for which you qualify, currently 7.90% APR – 18.90% APR.
See website for current rates
and credit card agreement and disclosure for details. Cash advances, credit card checks, and balance transfers are excluded from earning CURewards/cash rewards.
---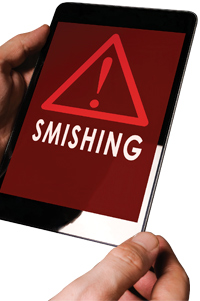 Text message scams (or "smishing") are not only cumbersome, but they are also dangerous to your sensitive information. You may have opted to receive legitimate account or purchase text alerts from DECU, so a malicious text can be very believable. However, you should never click on a link from an unknown number or an unexpected message. Instead, login to your mobile or online banking account and send a secure message to one of our Member Representatives to verify the text message or call us at 800-268-6928.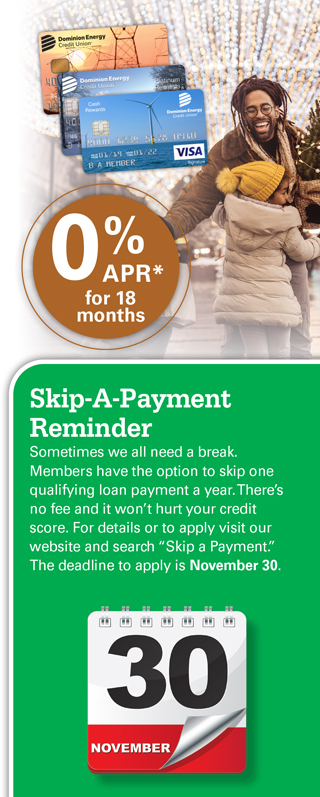 Skip the Stress with Skip-A-Payment We know times have been tough and having a little extra money to pay for unexpected expenses is important. We offer Skip-A-Payment on qualifying loans so all you have to do is sit back, relax, and enjoy a little breathing room in your budget. You will not be charged a fee for this service and it won't hurt your credit score. Visit our website for details, restrictions, and to apply.