"GAP", or guaranteed asset protection insurance, is automobile insurance that covers the difference between the total amount of the loan and the value of the car. It provides protection against the worst-case scenario, that you total a car (or the vehicle is stolen) and you owe more than it is worth. Your comprehensive insurance coverage will only pay out the value of the car, leaving you on the hook for the remaining balance. GAP insurance cost can vary greatly, so be sure to shop around.

At Dominion Energy Credit Union, GAP coverage costs just a few dollars per month while providing a wealth of security.
Protect yourself, and your credit rating, from significant loss if your car is stolen or totaled in an accident
Available for new and used vehicles
Covers insurance deductible up to $1,000
Low, one-time cost of $350 which can be added to your loan
Available at Dominion Energy CU loan origination and on existing Dominion Energy CU auto loans
---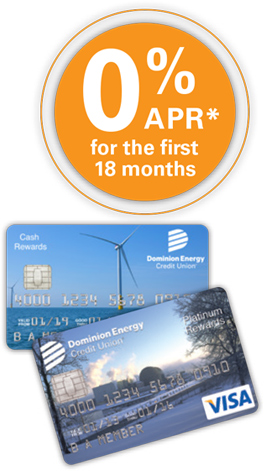 Earn attractive rewards, pay fewer fees and enjoy a lower interest rate with our credit cards. Plus, you'll receive 0% APR* for the first 18 months. After that, enjoy a low variable standard rate based on credit qualifications.
Shop with the credit card that pays you back using our Cash Rewards Credit Card. Earn 2% cash back on gas, groceries, wholesale clubs, travel, entertainment, and dining, and 1.5% unlimited cash back on all other purchases. New cardholders can also earn a $100 cash bonus for spending $500 within the first 90 days**. Apply online or by phone today!


Earn 1 reward point for every $1 spent on your credit card. Redeem reward points for a variety of merchandise and unrestricted air travel at curewards.com. Plus, new cardholders can earn 10,000 bonus points when you spend $1,500 in the first 90 days with our Visa Platinum Rewards Credit Card!**



Skip-A-Payment We are here to help you worry less about finances so you can focus on what matters most. With Skip-A-Payment, you can skip one month's payment on your qualifying loan during the year. All you'll have to do is sit back, relax, and enjoy a little breathing room in your budget. Our FREE service offers help when you need it most and will NOT affect your credit score. There will be no changes to your monthly loan payment. Visit our website for details, restrictions, and to apply.
*Annual percentage rate. 0% APR valid for new credit card accounts only for all transactions for the first eighteen months. The introductory rate is not valid on existing Dominion Energy CU balances. After the introductory period, the rate will return to the variable rate for which you qualify. View current rates and credit card agreement and disclosure for details. Balance transfer fee is 2% or $10, whichever is greater.
Cash advances, credit card checks, and balance transfers are excluded from earning rewards.

**Platinum Rewards card bonus of 10,000 points when you make $1,500 in net purchases within the first 90 days and Cash Rewards card bonus of $100 when you make $500 in net purchases within first 90 days on new credit card accounts only. Please note: CURewards® points don't transfer – be sure to redeem any you may have before you apply for a new card. Member must meet credit qualifications and minimum line of $5,000 for new card.