Transfer Balances and Save
Are you overwhelmed with holiday bills and high-interest rate credit cards? Consider transferring your balances to a Dominion Energy Credit Union credit card and save!

We offer three card options with low rates and no annual fees. New cardholders enjoy 0% APR* on all transactions (including balance transfers) for the first 18 months.

*Annual percentage rate. 0% APR valid for new credit card accounts only for all transactions for the first eighteen months. The introductory rate is not valid on existing Dominion Energy CU balances. After the introductory period, the rate will return to the variable rate for which you qualify.
View current rates
and credit card agreement and disclosure for details. Balance transfer fee is 2% or $10, whichever is greater (excludes existing DECU cards converting to another DECU card). Cash advances, credit card checks, and balance transfers are excluded from earning rewards.
---
Fun Quiz or Potential Security Risk?
Scrolling through Facebook, we've all seen the posts asking "What's your favorite color?"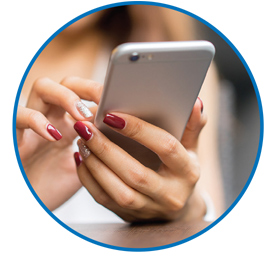 or "who was your kindergarten teacher". Or a friend has shared a quiz that will tell you what 80's movie you would be cast in. Harmless fun, right?

The problem is these quizzes often ask questions similar to ones you've answered as security questions to reset your password or verify your identity on other sites, like your financial institution.

While not all post or quizzes are scams, you should:
Be vigilant about what information you share online.
Routinely check and update your privacy settings.
Don't give out personal information, even information that seems harmless.
Verify that a quiz or page is legitimate even if a friend shared it.
Use fake, easy to remember answers for security questions.
A little caution can go a long way in keeping you safe online! Happy scrolling.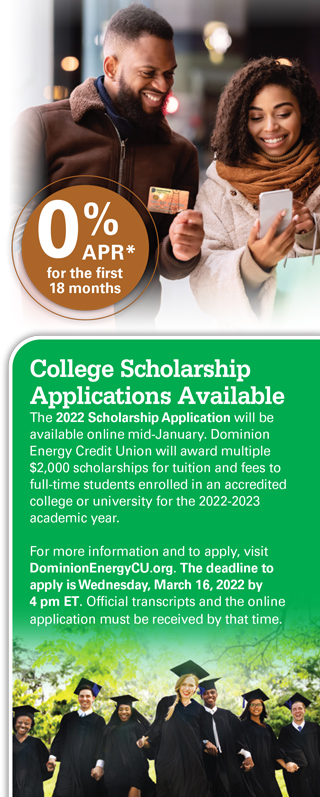 College Scholarship Applications Available The 2022 Scholarship Application will be available online mid-January. Dominion Energy Credit Union will award multiple $2,000 scholarships for tuition and fees to full-time students enrolled in an accredited college or university for the 2022-2023 academic year. For more information and to apply, visit DominionEnergyCU.org. The deadline to apply is Wednesday, March 16, 2022 by 4 pm ET. Official transcripts and the online application must be received by that time.