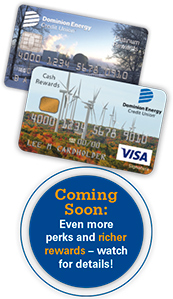 Enjoy a low rate credit card with added perks that make buying holiday goodies a breeze. We have three credit card options, making it easy to find the perfect one for you. All cards enjoy:
0% APR* introductory rate for 18 months on purchases, balance transfers and cash advances
No annual fees
Fraud and purchase alerts
24/7 online account access
CURewards and Cash Rewards options – treat them, then treat yourself!
*Annual percentage rate. 0% APR valid on all transactions for the first 18 months. The introductory rate is not valid on existing Dominion Energy CU balances. After the introductory period, the rate will return to the variable rate for which you qualify, currently 7.90% APR – 18.90% APR. †Rates effective as of 9/3/20 and subject to change. See website for current rates and credit card agreement and disclosure for details.
---
Welcome to our Newest Members!
We are pleased to announce the merger of the EOG Cleveland Operating Employees Federal Credit Union and EOG Youngstown Division Employees Federal Credit Union with Dominion Energy Credit Union, giving members easier access to their accounts and an expanded line of product offerings.

Members can now access their accounts by using ATM and debit cards, digital banking, a Member Services call center, and local shared branches.

"We're thrilled to have members of both credit unions join us," said Mike Swalley, president and CEO of Dominion Energy CU. "It's an honor to have their trust placed in us," said Swalley, "and we're committed to continuing their long tradition of superior service to members."

We welcome you to the family!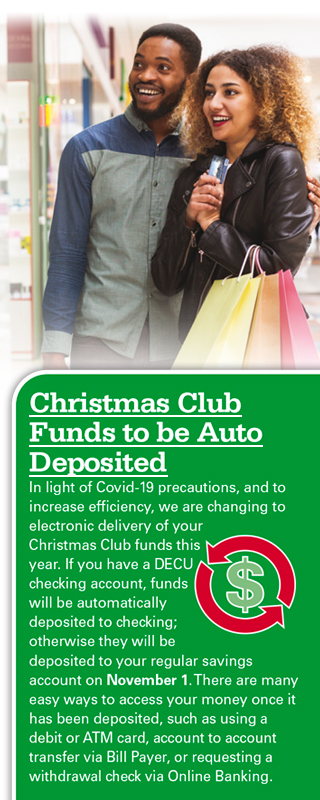 Christmas Club Funds to be Auto Deposited In light of Covid-19 precautions, and to increase efficiency, we are changing to electronic delivery of your Christmas Club funds this year. If you have a DECU checking account, funds will be automatically deposited to checking; otherwise they will be deposited to your regular savings account on November 1. There are many easy ways to access your money once it has been deposited, such as using a debit or ATM card, account to account transfer via Bill Payer, or requesting a withdrawal check via Online Banking.