Offer ends 4/30.
Find your happy place faster with rock bottom payments that will put more cash in your pocket for your next adventure. Call or apply online today.
No payments until June**
You could win a $300 deposit when you apply by 4/30**
Get pre-approved for more bargaining power
Already have a car loan somewhere else? Refinance and save!
*APR= Annual Percentage Rate. Rate includes all discounts and is subject to credit qualifications. 1.74% is for a 36-month loan and includes a .25% discount for repayment by payroll deduction or automatic transfer from your Credit Union account. Payment for a $15,000.00 loan for 36 months at 1.74% APR is $428.74. **All members taking vehicle loans between 3/1/2021 and 4/30/2021 are automatically entered to win a $300.00 deposit. Must be a member in good standing in order to be entered. Must close by 5/15/2021. First payment due June 2021. Prize awarded by 6/15/21. Interest begins accruing immediately. This loan is subject to approval and based on credit history. This offer is not valid for loans currently financed with Dominion Energy Credit Union. No purchase necessary. See DominionEnergyCU.org for details, restrictions, and Alternate Method of Entry. †Average refi savings based on $20,000 loan for 60 months at an original rate of 4% APR refinanced at 2.00% APR. Savings of $1116.00 over life of loan.
---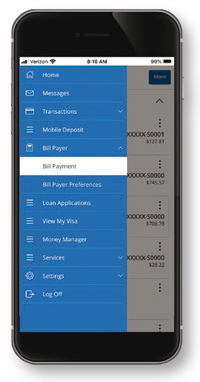 View, pay and track your bills online with Bill Payer to save both time and money.

Pay bills from anywhere using our mobile app!
Set up your list of payees – such as utility companies and subscription services, or even an individual
Schedule one-time or recurring payments
Payments are taken out of your DECU checking account on the due date you select
Change/cancel pending payments anytime and set up due date reminders

Skip the Stress with Skip-A-Payment We know times have been tough and having a little extra money to pay for unexpected expenses is important. We offer Skip-A-Payment on qualifying loans so all you have to do is sit back, relax, and enjoy a little breathing room in your budget. You will not be charged a fee for this service and it won't hurt your credit score. Visit our website for details, restrictions, and to apply.