Credit Union to Award Scholarships to All 2020 Qualified Applicants
Each year, Dominion Energy Credit Union awards $2,000 to outstanding high school seniors. The scholarship recognizes the students' excellence in academics and dedication to school, activities and community involvement. Over the past 19 years, the Credit Union has awarded a total of $322,000 in scholarships to 222 students.

This year, a mistake was made in the notification mailing to those who applied for the DECU scholarships. As a result, the letter to all 143 qualified applicants stated they would receive a scholarship. We believe the responsible thing to do is to honor the message in the letters, and so all 143 qualified applicants have been awarded a $2,000 scholarship.

The applications received were of superior caliber. Each of these students demonstrated great initiative and should be proud of their accomplishments.

Dominion Energy Credit Union takes seriously the trust you place in us. While we believe this is the appropriate action, we will resume awards to only finalists in future years.
2020 College Scholarship Recipients
Connecticut
Jack Anderson, parent - Paul Anderson, Millstone
Maryland
Aryan Kakadia, parent – Jitendra H. Kakadia, Cove Point
Dhyan Patel, parent – PiyushKumar Patel, Cove Point
Jaskaran Singh, parent – Pawandeep Singh, Cove Point
Kylie Lopez, parent – Susan Lopez, Cove Point
North Carolina
Luke Wiseman, parent – Katherine Wiseman, Elizabeth City
Tyra Hicks, parent – Thomas Hicks, Durham
Wyatt Norfleet, parent – William "Jr." Norfleet, Elizabeth City
Ohio
Alexandra Dent, parent – Joe Dent, Akron
Amirah Shupe, parent – Jeffrey Shupe, 55th Street Center
Andrew Jucha, parent – Nathan Jucha, Akron
Halle Parrish, parent – Garry Parrish, 55th Street Center
Hunter Grone, grandparent – James Grone, Lima
Kenan Tabachnik, parent – Mark Tabachnik, Akron Springside
Vyoma Trivedi, parent – Snehal Trivedi, 55th Street Center
Pennsylvania
Alli Jobe, parent – Lance Jobe, Delmont
Anna Malesiewski, parent – Tim Malesiewski, Compression Services

(Continued next page)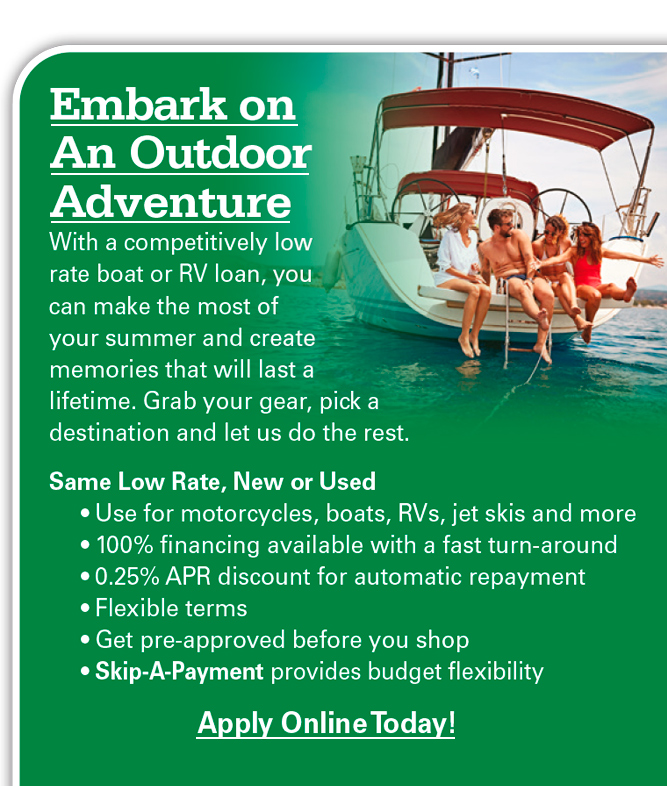 Embark on An Outdoor Adventure. With a competitively low rate boat or RV loan, you can make the most of your summer and create memories that will last a lifetime. Grab your gear, pick a destination and let us do the rest. Same Low Rate, New or Used, Use for motorcycles, boats, RVs, jet skis and more, 100% financing available with a fast turn-around, 0.25% APR discount for automatic repayment, Flexible terms, Get pre-approved before you shop, Skip-A-Payment provides budget flexibility. Apply Online Today!